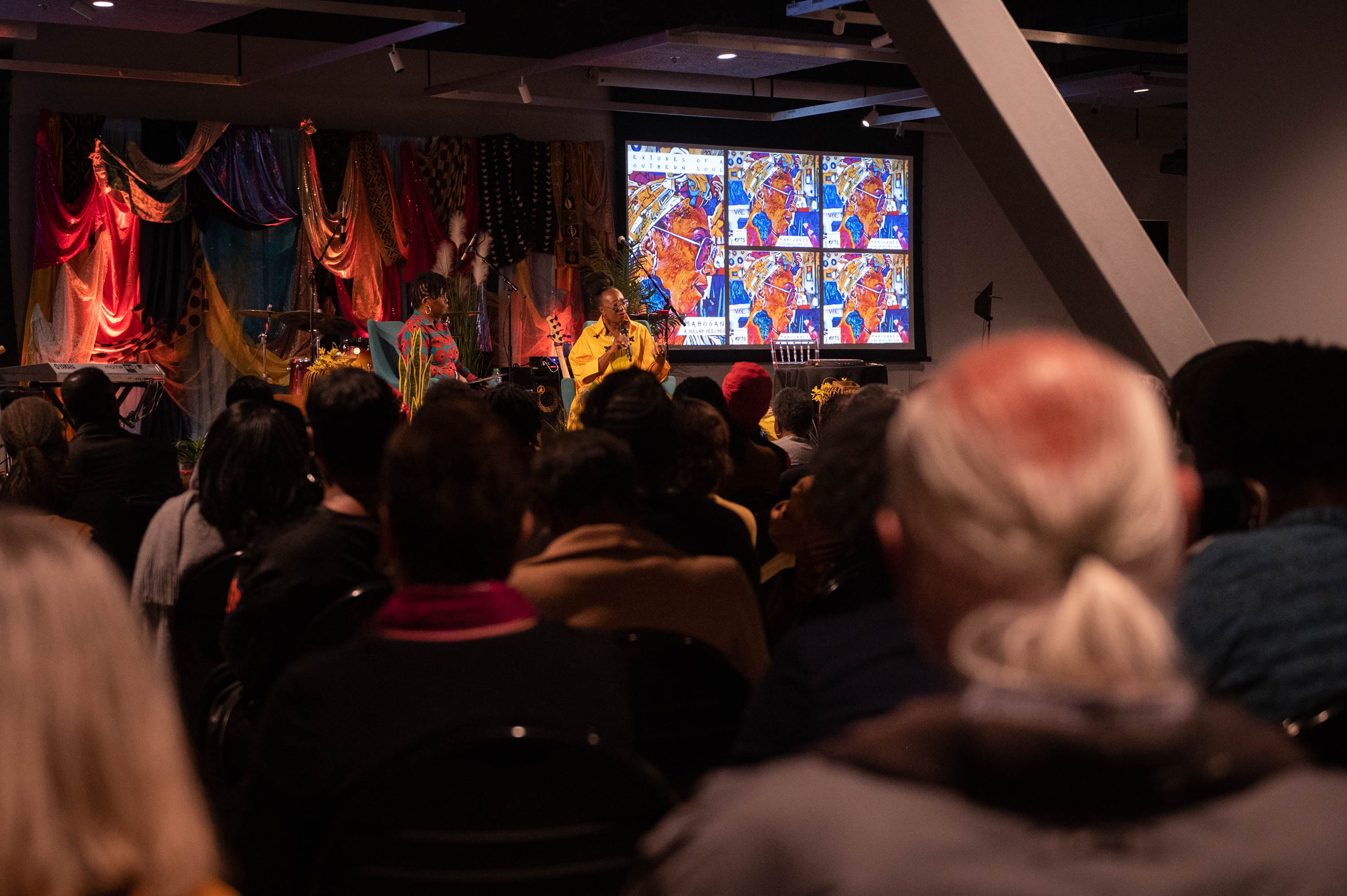 What a night this was. The Mahoganee Xperience truly came alive, I was able to truly live in and give the Xperience I've always dreamed about. There were several components happening at once and they all flowed seamlessly. I was able to merge my passions of Music, Visual Art, Photography and Poetry in one Space. 
Happy Black History Monf.
We Created a Gullah Geechee Sanctuary
🗣️Performing my own Indigenous Soul Music 

What a Phenomenal Team::::
An amazing interview with theee bestest Ethnomusicologist Dr. Birgitta Johnson, PhD @drbirgittasays
Stage Design by Renee Givens of @lushfloralstyle Lighting by David Givens

I told Renee I wanted my lyrics to come alive and bring the Gullah Geechee Lowcountry Kulcha to the Columbia Museum of Art and she delivered on a monumental scale. There's representation of fabric from da Motherland, Dirt, Water, Rice, Rice Fields, The Sun, Indigo, Grandmama's Quilts and most importantly LOVE… 🙏🏾 🌾🌴🏝️💙🥬💚
Wearable Art Grommet Top from  @stylistjbolin 
Handpainted Collards by my favorite @gullahmama 🥬💚🥰
My Collaborator, Muse, HusBae & Music Producer @andreamiger ❤️🥰 he gave birth to this beautiful music from his beautiful mind. It was an honor to bask in the Joy beside him on Stage.
The Amazing Musicians who actually felt the music 
and added profoundly to the Vybe 
: with one rehearsal they brought all tha sauce 💚🥳
TJ Ling (Bass) @tj.ling.3 
Kameron Humphries (Keys),
Clifford Mills (drums)
Matt Buck: Sound Technician
Winson Bame: Manager of Engagement CMA 
Photos by Victor Johnson