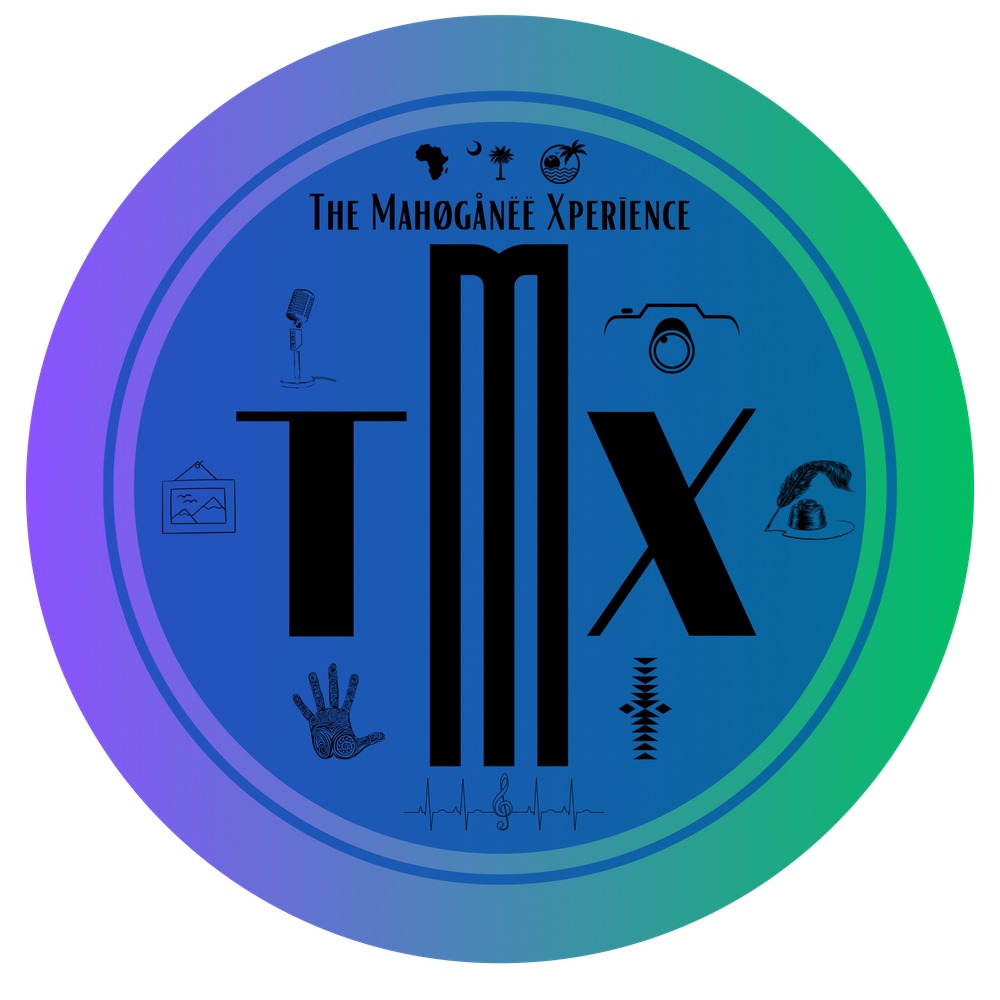 The Mahoganee Xperience is a multi-hyphenate gath·er·ing of indigenous Gullah Geechee Expressive Arts: Afro-futurism storytelling through folk songs, photography, mixed media and poetry.
Mission/Vision: Making a huge impact on the world by using Art to Entertain, Elevate, Enlighten and Explore the possibilities utilizing the power of our Creativity and Imagination to advance the Gullah Geechee Culture and Heritage specifically by highlighting environmental responsibilities with land stewardship, caring for our waterways and assisting our black landowners and farmers to move us forward.
The Mahoganee Xperience yields the best of the Artistry of Mahoganee who is a Gullah/Geechee lowcountry creative, renowned improvisational vocalist, recording artist, songwriter, poet, mixed-media visualist and music cultural preservationist who believes in arts advocacy through strategic partnerships. In her latest work she explores Afro-futurism  with "time travel" and "portals". Her work is heavily influenced by the quote "The South is a Portal" from the thesis of griot, time-traveler, historian, writer, and educator Sara Makeba Daise, and the new book "BlackWorld" by American sociologist, author, lecturer, and educator Dr. Bertice Berry.
Also referred to as "Da Sea Island Songbird" her unique style of Indigenous Soul Music blends elements of Funk, Jazz, Blues, Hip-hop with African and Caribbean influence, touching on all elements of both contemporary and traditional American roots music, making her a quintessential modern folk singer. This music that ignites the senses and lyrics born out of her trans-Atlantic heritage that spark the soul is created by Mahoganee and her husband, music producer André Amigér and they call it Funky Organik Soul.
With over 30 years of experience in her field and national credits to her name, Mahoganee's artistic persona is constantly evolving. Her sultry and earthy vocals, commanding acapella stage presence, and a range spanning more than four octaves has earned her a loyal following by an ever-growing fan base and thus given the name "Sea Island Songbird". She has performed before dignitaries and 21st century icons and for audiences of 20,000+ at festivals and other corporate, private, civic and community events – including Historical Penn Center's Heritage Festival, the Annual Black Family Reunion for the National Council of Negro Women in Washington, DC, and the Black Heritage Festival in Savannah, GA. Mahoganee has shared the stage with artists such as Tony Terry, SOS Band, and Daniel Winans, and has been a featured performer with South Carolina's ambassadors of Tourism Dr. Marlena Smalls & The Hallelujah Singers. Mahoganee was an Artist-in-Residence in Trinidad and Tobago in 2009 and in 2019 Cuba and Belize. Mahoganee has twice been in the music line-up with Grammy Winner Dom Flemmons "The American Songster" "Dom Flemons is one of the most accomplished American Folk Artists… few have pumped as much lifeblood into tradition as he has."-MOJO Magazine. Mahoganee has also been featured alongside South Carolina native and globally recognized blues musician Adia Victoria and South Carolina-native Nicole Neely, composer, arranger and conductor collaborating with artists such as Beyoncé, Ms. Lauryn Hill, Mariah Carey, Alicia Keys, John Legend, Toni Braxton, Lizzo and H.E.R.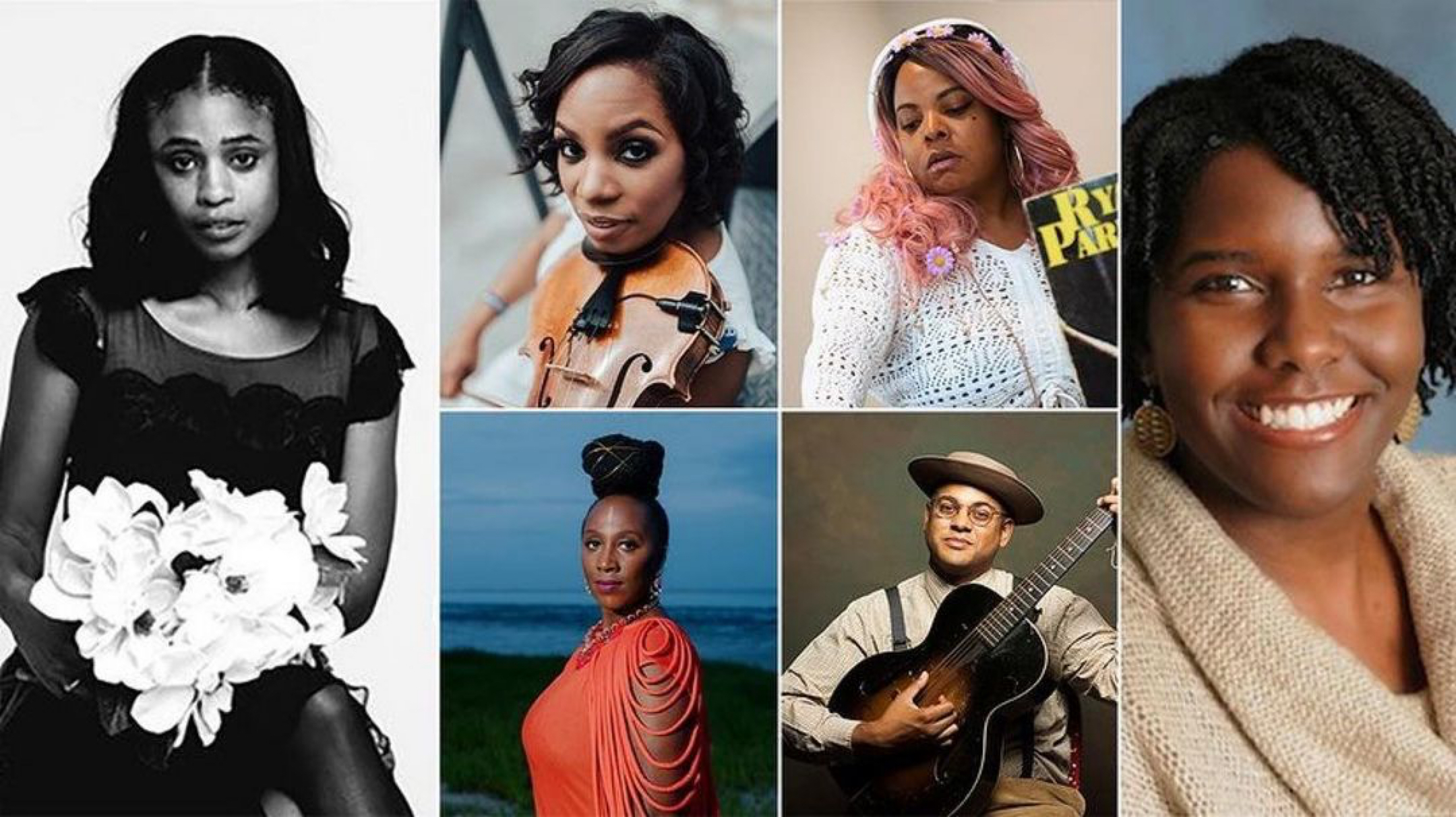 Season 2 Line-up for More Than Rhythm: A Black Music Series at The Columbia Museum of Art hosted by Dr. Birgitta Johnson. -Photo by Columbia Museum of Art. 

She's been featured on SoulTrain.com for both her artistry and activism. She has also been a teaching artist at the prestigious Historical Penn Center and is a member of the (Grammys) Recording Academy, a GrammyU Mentor and an Official South Carolina Arts Commission Arts in Education Approved Certified Teaching Artist in the Field of Music Since 2014. Mahoganee was commissioned to write the college Alma mater for TCL Technical College of the Lowcountry in 2019. Mahoganee has most recently released her 4th record (album) entitled "Textures of a Southern Soul (a GullahGeechee Soul)" and has been getting rave reviews with an amazing collaboration with Grammy nominated artist, Carolyn Malachi. Most recently Mahoganee has been awarded the prestigious award by the SC Arts Commission and named the 2023 Leo Twiggs Leadership Scholar. 
Accolades:
Presented with Proclamation from Prince George's Maryland County Executive Jack B. Johnson on February 16, 2008 Recognizing Mahoganee and her husband Andre for Musical Accomplishments. The Proclamation Recognized & Proclaimed February 16, 2008 as a day of celebration and recognition of Mahoganee's 2nd album "Thoughtz of a D.I.V.A..
Commissioned to write Alma Mater for TCL Technical College of the Lowcountry 2018
2011 Expansion Arts Grant Awardee (Coastal Community Foundation) 
Featured Artist on SoulTrain.com for Arts & Activism Jan 2012
Awarded the Chapter President's Award & Made an Honorary Member of the Historical Montford Point Marine Assoc. June 2016
Performed as Nina Simone in "Take Me Back to Harlem" A Langston Hughes Based Play for the North Charleston Arts Festival in 2015
Featured on SoulTracks.com with New Single First Listen Write-Up Feb 2017
KweliTV Ambassador2021
Won Finalist in the Rap/Urban/R&B category of the 2009 Mid-Atlantic SongWriters Association of Washington DC Song Contest
2020 National Black Arts Forward Project Relief Fund Awardee
GIA (Grantmakers In The Arts) 2021 Annual Conference Plurality, Power & Belonging San Juan, Puerto Rico Opening Artist (song 1619)
SC Arts Commission FY23 Arts Project Support Grant Awardee for Visual Art
Acres of Ancestry Grant for Art Exhibition 2023 Recipient 
TEDx Charleston Performer at Charleston Music Hall 3.29.2023
2023 Leo Twiggs Arts Leadership Award by South Carolina Arts Commission
2023 Riley Diversity Scholarship by The Riley Institute Furman University
Arts Advocacy:
Co-Founded Responsible ARTistry Inc. 2006 A non-profit whose mission is to arm youth with the imagination to survive through mentorship art camps driven by fostering leadership skills, self awareness & reflection through Music and the Arts
Beaufort County School District Community Volunteer 
Beaufort Arts Council Volunteer 2010 
Beaufort Arts Council Office Manager 2011-2012 
Beaufort Arts Council Arts Administrator 2018-2020
Recording Academy Member (Grammys)
Serving as District Advocate for the  Recording Academy (2020-2023)
Member of (NABFEME) The National Association of Black Female Executives in Music & Entertainment
Music:
Performance at SC State House for Commemoration of Brown vs Board of Education May 2015 
Self-published 3 albums, the most recent album reached the top 10 of the Indie Charts.
Requested performer at the Savannah GA Black Heritage Festival 1996, 1997, 1998, 2000
Requested performer at Historical Penn Center's Heritage Festival 2011, 2014, 2015
Requested performer at the 30th Annual Original Gullah Festival 2016
Featured Vocalist at SC State House 50th Annual Governor's Carolighting 2016 
Featured Performer at the Annual Black Family Reunion of the National Council of Negro Women (NCNW) in Washington, DC.
Guest soloist in Macy's Homeless Campaign in Washington DC. 2009
Live Performance on the (TJMS) Tom Joyner Sky Show 2005
2016/2017 Featured Vocalist with the Renowned International Dr. Marlena Smalls & The Hallelujah Singers South Carolina's Tourism Ambassadors
More Than Rhythm: A Black Music Series at Columbia Museum of Art hosted by Ethnomusicologist Dr. Birgitta Johnson of University of SC School of Music February 2023
TEDx Charleston Re-Emerge 2023 Music Performer
Teaching Artist (Education):
 Official South Carolina Arts Commission Arts in Education Approved Certified Teaching Artist in the Field of Music
Teaching Artist at Historical Penn Center, one of the most significant African American historical and cultural institutions in existence today on St. Helena Island, SC (Culture Keepers Program)
Traveled abroad to Artist Residencies in Trinidad & Tobago, Cuba and Belize
2018/2019 Arts in Basic Curriculum Grant Artist Residency (Saluda Trails Middle School)
2021 Recording Academy Grammy U Mentor
 Teaching Artist 2021 JULY 4 DAY Residency with Richland Two Partnership Grant for a Summer Reading Camp 
 16 Week Artist Residency with Robert Smalls Academy Feb-May 2022
4.0 Essentials Fellow 2022
Featured performer and teaching artist on the sacred grounds of The Brainerd Institute and Workshops In Open Fields, a premier program created by Poet and Pulitzer Prize Nominee Dr. Vivian Ayers Allen to foster and promote preschool literacy. The program was lauded and fully supported by the National Endowment of the Arts Chairman Nancy Hanks as the premier paradigm for how to approach education. Phylicia Rashad, the actress and director is the daughter of Dr. Vivian Ayers Allen was on site at Brainerd Institute on behalf of Dr. Ayers.
The History of Human Enslavement Certification Course from African American Maritime History Academy by Kim Cliett Long, Ed.D, FRSM, FRSPH, FRGS 3.20.2023 
Visual Art/Poetry/Photography
Art Featured in "Da Wada Brought Us & Kept Us" a Collection of Gullah Geechee Art curated by the Gullah Geechee Heritage Corridor (Mediums: Photography and Poetry) currently exhibited at Avery Research Center for African American History and Culture at College of Charleston. 2022-2023
Art Featured in "How Da Wada Keep Oona" Exhibit by the Gullah Geechee Heritage Corridor at Port Royal Sound Foundation (Mediums: Photography,  Digital Design, Mixed Media and Language Arts [Poetry]) 2023
 Published Photography in Earth Island Journal (an environmental magazine) ; Article entitled "Back to the Land" discussing the Heirs Property on St. Helena Island, South Carolina. 2021 ; Earth Island Journal is an international magazine that combines investigative journalism, thought-provoking commentary, and art to highlight the subtle but profound connections between the environment and other contemporary issues.
Published Photography in Southern Cultures Vol 28, No. 3: Inheritance 2022 Title: Frankenstein's Monster (Constructing a Legal Regime to Regulate Race and Place) ;  The Inheritance Issue explores what we have inherited, how, and from whom, reflecting on what we bring forward and what we must leave behind; what we have reckoned with and the consequences of failing to reckon. The lived experience of Indigenous people in the American and global Souths is crucial to the issue's reflections on place, identity, and origin and to the discussions of solidarity, allyship, identity, and belonging that must precede collaboration and reconciliation.⁠  ; Southern Cultures is an award-winning, peer-reviewed quarterly of the history, arts, and cultures of the US South, published by UNC Press for the Center for the Study of the American South, where it is housed.)
Featured Artist sharing [Poetry x Song]  representing the Gullah Geechee Heritage Corridor at the South Carolina Folk Poetry Fest in honor of Queen Vivian Ayers's 100th Birthday hosted by Brainerd Institute Heritage. 
As a dedicated arts advocate and teaching-artist Mahoganee is a sought after Artist-in-Residence and Co-Founder of Responsible ARTistry, Inc. A non-profit that centers music as art therapy and education on artist development by hosting workshops, clinics and camps on music production, songwriting, song structure, stage presence, confidence building, and vocal production. 
Learn more about Mahoganee's Social & Community Work at www.ResponsibleARTistry.org